Register now for ¡Adelante! A celebration of 40 years of Latin@-led advocacy. From February 15-17, 2023, this free, virtual series brings together hundreds of Latin@ advocates to celebrate, heal, grow, and learn.
We're excited to present "The magic of virtual facilitation" featuring Director of Training and TA at the National Resource Center on Domestic Violence, Ivonne Ortiz, and Training & TA Program Specialist Kim Camacho. In this break-out session, you will learn best practices for facilitating groups over virtual platforms, and how to address the evolving needs of survivors.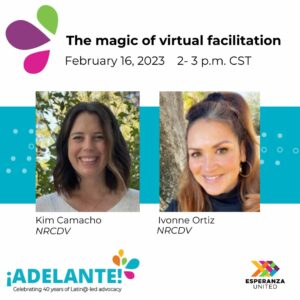 We're also happy to present, "Expanding Promotora leadership." In this breakout session, Esperanza United's Health and Violence Prevention Specialist, Laura Villarreal discusses how to increase awareness about Promotoras, or community health workers that bring health education to the community in Spanish.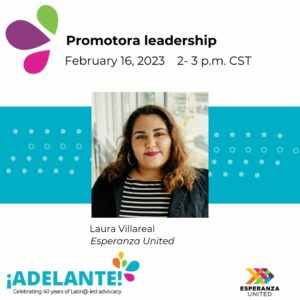 Visit AdelanteNLN.org to register and see our full agenda and speakers list.