As Black History Month concludes, we are reminded that the work to advance gender and racial justice must continue. We invite you to register for our webinar taking place on March 2nd at 3 p.m. E.T, featuring two incredible women: Yvette Modestin, a writer, poet, and activist from Colon, Panama and Anne Hernandez, a social worker and Afro-Latina immigrant from the Dominican Republic. This webinar will be an opportunity to hear from contributors on the report "A call to action for inclusive gender-based violence services for Black/Afro-Latin@s", engage in conversation about embracing Blackness in the Latin@ community and understand the actions required of gender-based violence decision makers to build inclusive services for Black Latinas.
If you're interested to learn more about the speakers in this webinar we invite you to explore some of their resources:
___________________________________________
Yvette Modestin (she/her/hers) is a writer, poet, and activist, born and raised in Colon, Panama. Modestin was named one of "30 Afro Latinas you should know." She is Founder/Executive Director of Encuentro Diaspora Afro in Boston, MA. Modestin is the Diaspora Coordinator of the Red de Mujeres Afrolatinoamericanas, Afrocaribeñas y de la Diaspora (RMAAD), an international network of Afro descendent women. In 2019, Modestin received the inaugural "Every Woman is an Activist" Award from March Forward Massachusetts. In 2020, Modestin was named one of the Women Winning Globally on International Women's Day by Afrocenchix. In 2019 her poetry book, Nubian Butterfly; The Transformation of a Soulful Heart was released in Panama. She is a board member of IBW the Institute of the Black World. Modestin is a National African American Reparations Commission (NAARC) Commissioner. She is one of the editors and writers of the book, Women Warriors of the Afro Latina Diaspora. The book was named in the top five Latino books in the country for 2013. She is a contributor in the book, The Trayvon Martin in US: An American Tragedy and the Psychological Health of Woman of Color to name a few. In 2020 she was named the international Ambassador for Reparations by the Rastafari Alliance of Panama.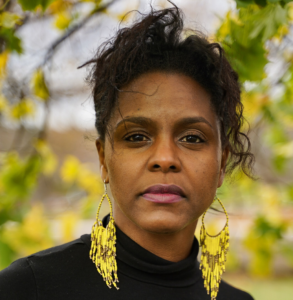 Anne Hernandez (she/her/hers) is an Afro-Latina immigrant from the Dominican Republic who became a clinical social worker to support the mental health needs of humanity. Over the past 21 years Anne has worked in a number of settings including the Victims of Violence Program in Cambridge, Boston College and the Boston Public Schools, where she has been a School Social Worker for the last 15 years. She is a consultant to Beth Israel Hospitals Center for Violence Prevention and Recovery (CVPR) program and the Children's Advocacy Center.