For Hispanic/Latin@ Heritage Month, Esperanza United is celebrating Latin@ leaders who have made their mark in the field of gender-based violence. In this blog, we are highlighting an inspiring leader, Dr. Irasema Coronado. Dr. Irasema Coronado is the director and professor of the School of Transborder Studies at Arizona State University and a mentor in Esperanza United's 2023 Latin@ Leadership Program. She co-edited a book titled Children Crossing Borders: Latin American Migrant Childhoods along with co-authoring numerous books and articles. She is also a member of the academic advisory board for Ms. Magazine. 
In 2010, President Barack Obama appointed her to serve on a committee with the Commission for Environmental Cooperation, she served on a council at the Department of Human Health Services, and Hispanic Business Magazine named her a Top 100 Influential Hispanic in the US in 2010. 
What does being a Latin@ leader mean to you? 
Being a Latin@ leader means being a role model for my community and an advocate for social change. It also means interacting with power brokers and institutions in a meaningful way to bring about positive change. Being a Latin@ leader also requires a commitment to cultivating future leaders who will serve our community. Being a Latin@ leader to me means caring about the success and happiness of others in any way that I can. 
Why is Latin@ leadership essential for ending gender-based violence in Latin@ communities?
Latin@ leadership is instrumental in bringing about change and stopping violence against women, and this requires engaging allies, including men. In the 1990s, I lived in El Paso, Texas, and near there, the women in Ciudad Juarez, Chihuahua, were being assaulted and murdered in inordinate numbers. I raised awareness about the femicides through my publications, formed a coalition with several women's groups demanding justice, and helped bring Congressmembers to meet with the victim's family members and inspire action by the US and Mexico. 
I also helped organize a binational march that would raise awareness internationally. Over 7,000 people, including Salma Hayek, joined this march. Also, I received an invitation to present my research about femicide at the United Nations in New York. 
Can you share a time when you felt the need to advocate for yourself and your community, and it made you realize that you are a Latin@ leader?
Coming from a large family, I always had to advocate for myself. So in many ways, advocacy is part of who I am. One example is my experience in graduate school, where there were not many Latin@ students. A group of us came together and advocated for ourselves, leading us to get fellowships, teaching and research roles, and more. I emerged from this experience as a Latin@ leader representing Latin@ students, which has made me become a leader for Latin@ faculty also.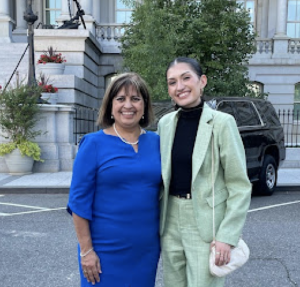 Can you provide some insights from your experience as a Latin@ leader in education?
While I was at the University of Texas at El Paso, I served as chair of the department of political science. I felt compelled to run for that position because I wanted to create change, like with the pay structure that impacted women. I helped make drastic positive changes with the support of my colleagues, like more equal teaching loads.
I've also advocated for Latin@ scholars. Sometimes, our colleagues do not understand the research that Latin@scholars publish and discredit our work as not being "real." To dismantle this, I made a case for the value of scholarship that focused on issues like income and health inequalities, for example. I've also held workshops to empower women, exploring how to say no and improve family and work-life balance. 
At ASU, I am a director and chair the Hispanic Serving Institution Advisory Council. I like being in these positions to ensure others' success, to serve as a role model, and to cultivate future leadership. 
Finally, what advice do you have for emerging Latin@ leaders?
My advice to those going into leadership, advocacy, and public policy spaces is to hone your research skills, make sure that you have data-driven policy recommendations, and identify best practices that are proven to work. Make sure you advocate for the success and well-being of others and don't just see this as a job. Be bold, respectful, and polite, yet push the envelope. Become a leader!