Over the summer, as a policy & advocacy fellow, I had the incredible opportunity to work closely with Esperanza United's national policy team and contribute to the Latin@ leadership program. This experience was nothing short of transformative, and it showed me the power that Latin@ leadership has to create lasting change in the field of gender-based violence.
Witnessing and engaging in Latin@ leadership 
I proudly embraced all of myself throughout my journey as a policy & advocacy fellow. As a member of the LGBTQ+ community, a Latin@, and member of Generation Z, my path has been uniquely shaped by the intersections in my identity. I'm a first-generation student who earned two bachelor's degrees and a master's degree in just four years. And I was not solely driven by academic pursuits but also by my determination to break generational barriers and defy the odds. 
Like other people from marginalized communities, I know that bringing my personal experiences to the forefront is crucial in advocating for the underserved and underrepresented. I am confident that by being my authentic self, I will enhance the safety and quality of life in our communities and pave the way for the Latin@s who follow in my footsteps.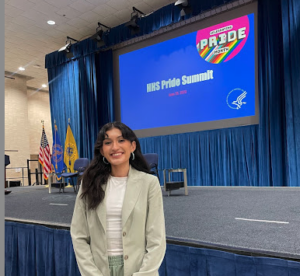 Supporting the 2023 Latin@ leadership fellowship, I found myself on a path filled with the spirit of community and hermandad, nurturing Latin@ leadership and scholarship at both the undergraduate and graduate levels. We equipped our fellows with invaluable, culturally relevant skills in policy advocacy and research to empower Latin@ communities.
During the course of this program, we were privileged to attend a meeting at the White House, where the fellows had the once-in-a-lifetime opportunity to learn from distinguished Latin@ leaders serving in the Biden-Harris administration. It was a moving experience that reminded us of the significance of our presence in that room, and the diverse perspectives we brought with us: from Latin@ survivors, advocates, sisters, mothers, and even our inner niña.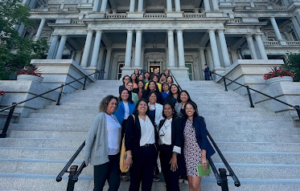 Also in that room, we carried the memory of Karen Delgado-Villanueva, one of the policy fellows who passed away over the summer. Karen shined in Esperanza United's programs with her radiant leadership within the Latin@ community for many years. My personal experience with her may have been brief, but it was certainly impactful. Her passion for advocacy, determination, and remarkable leadership made a mark on all of us. We came together to honor her memory and, as a collective, committed to lead in her legacy.
Call to action: Remember your roots and the power of hope
In closing, remember why you started your journey. Reflect on your ancestors and the Latin@s who paved the way. To emerging Latin@ leaders, I say this: your voice, your presence is needed, and your leadership has the power to change lives. As we move forward, let's commit ourselves to nurturing our leadership and the next generation of Latin@ leaders. Let's create spaces where Latin@s can thrive, where our voices are heard, and where our ideas shape policies that impact our communities.