By: Yasmin Campos-Mendez, MSW and Oliva Garcia, Ph.D
December 8 marked the National Day of Action for Latina Equal Pay Day. Esperanza United's Director of Public Policy Olivia Garcia, Ph.D., and Public Policy Manager Yasmin Campos-Mendez joined Justice for Migrant Women, Poderistas, The Latinx House, MANA, and more, to host a Washington, DC convening with elected and appointed officials, community leaders, partners, and national influencers to address equitable data and solutions to closing the pay gap. Esperanza United recognizes that low-wage work and a persistent gender wage gap make Latin@ survivors especially vulnerable to experiencing poverty.
The 2022 Latina Equal Pay Day Summit highlighted how far into the year Latina women have to work to make the same as the average white man did in 2021 – nearly an additional year. Latinas earn 54 cents for every $1 paid to white men. Talk about racial and economic injustice.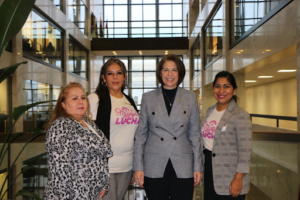 The summit had powerful speakers and panelists that ranged from Rep. Sylvia Garcia (TX-29) and Senator Sherrod Brown (OH) to Melody Gonzalez, the Executive Director of the White House Initiative on Advancing Educational Equity, Excellence and Economic Opportunity for Hispanics to Amy Hinojosa, President and CEO at MANA, A National Latina Organization, to Latifa Lyles, Special Assistant to the President for the White House Gender Policy Council, and many more that exemplified the importance of organizing and unionizing among communities of color. Together, we helped get #LatinaEqualPay trending on Twitter. 
"Everyone pitched in from all sides to make it a powerful day," said Monica Ramirez, the founder of Justice for Migrant Women, and her statement is exactly accurate. Esperanza United and Equal Rights Advocates facilitated a policy advocacy workshop the day before the summit to best prepare the Luchadora migrant workers who traveled from Ohio and Texas to share their stories about the wage gap and inequities faced in their labor. Luchadoras fight for good change! Dr. Garcia also shared her expertise on the final panel of the day and highlighted Esperanza United's commitment to fair wages for Latin@s.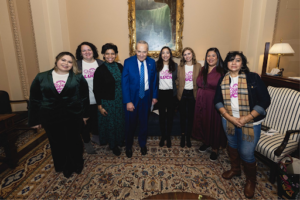 Esperanza United, Justice for Migrant Women, and mujeres from the community also did on-the-ground advocacy visits with Senator Schumer (NY) and Senator Cortez-Masto, who is the only Latina Senator. Together we sent a strong message to political leaders who need to take long overdue action! Let's make sure everyone gets equal pay for equal work—no excuses. It's time to close racial and gender pay gaps. Learn more about #LatinaEqualPay, from Justice for Migrant Women.