Register now for ¡Adelante! A celebration of 40 years of Latin@-led advocacy. From February 15-17, 2023, this free, virtual series brings together hundreds of Latin@ advocates to celebrate, heal, grow, and learn. Interpretation is available in each session of this virtual series.
As part of the event, we're excited to present "Economic Empowerment of Latin@s" featuring CEO/Senior Advocate at Latinos in Virginia Elvira de la Cruz, and Founder of Mujeres in Action Hanncel Sanchez.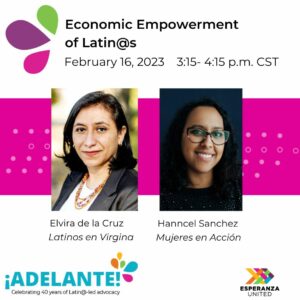 We're also happy to present, "How to Survive the Nonprofit Sector as Latin@/POC Executive," featuring founder of CasaLuz Ines Negrete, Chief of Programs at Tahirih Justice Center Maricarmen Garza, and Executive Director at Violence Intervention Program (VIP) Margarita Guzman. In this plenary, panelists will share their experiences as nonprofit leaders, the importance of mentorship, and strategies for organizations to create a culture that embraces Latin@ leadership.
Visit AdelanteNLN.org to register and see our full agenda and speakers list.