¡Adelante! A celebration of 40 years of Latin@-led advocacy starts next week! In honor of Esperanza United's 40th anniversary we're  bringing together hundreds of Latin@ advocates to celebrate, heal, grow, and learn in this virtual series. 
We're happy to present, "Community Connections: Working in Rural Communities" featuring María Limón, an independent consultant with more than 20 years of experience. During this conversation, we will discuss best practices that support rural dual/multi-service advocacy programs to provide culturally and linguistically appropriate services.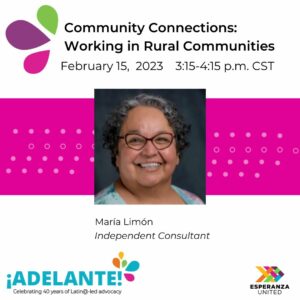 Visit AdelanteNLN.org to register and see our full agenda and speakers list.