Register now
for ¡Adelante! A celebration of 40 years of Latin@-led advocacy. From February 15-17, 2023, this free, virtual series brings together hundreds of Latin@ advocates to celebrate, heal, grow, and learn.
As part of the event, we're excited to present "Polyvictimization as a Risk Factor for Commercial Sexual Exploitation/Human Trafficking," featuring Operations Manager at the Mount Sinai Sexual Assault and Violence Intervention Program (SAVI) Rita Abadi, and SAVI Clinician Sonia I. Rodriguez. In this session, you will learn how multiple forms of victimization impact a survivor's trauma and how intergenerational trauma manifests in immigrant survivors.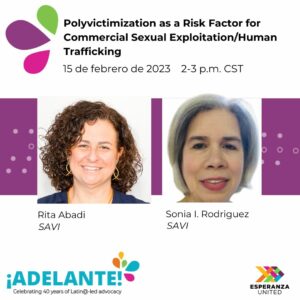 We're also happy to present, "The Power of Our Story: Strength of Immigrant Families Despite Legal Violence." In this presentation, Executive Director of the
Iowa Coalition Against Domestic Violence
, Dr. Maria Corona, will share an overview of the policies that have shaped the current anti-immigrant socio-political environment in the U.S. and Iowa and its impact on the health and well-being of children.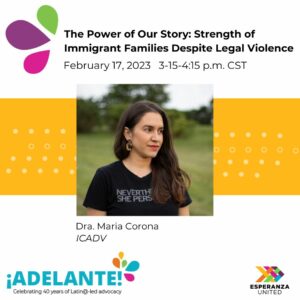 Interpretation is available throughout the duration of ¡Adelante!. Visit
AdelanteNLN.org
to register and see our full agenda and speakers list.