Esperanza United's 2023 Youth Conference
By Vanessa Reyes Romano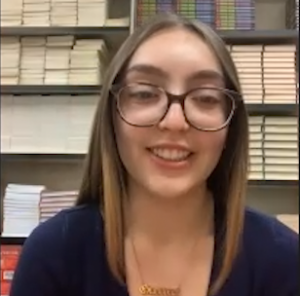 I was introduced to Esperanza United in 6th grade when I began attending Youth Conferences and summer camps with them. I took advantage of multiple opportunities to meet and engage with other Latinx youth who I am fortunate to still have close relationships with. 
Throughout these learning experiences, Esperanza United taught me about healthy and unhealthy relationships/teen dating violence and eventually invited me to participate in the planning for the 2021 Youth Conference. During this process, I worked with a few other Youth Leaders, including my 14 year-old sister, to create, thanks to Covid-19, the first virtual Youth Conference. 
During our weekly zoom meetings leading up to the big day, I offered suggestions on which organizations we should be inviting to help spread the word about issues impacting youth. We figured out how to cover topics such as mental health, mindfulness/self-care, drugs/alcohol abuse, healthy sexuality, LGBTQ community, red flags of social media, etc. 
On the day of the virtual Youth Conference, one of my main leadership roles was to share a slideshow presentation on healthy/unhealthy relationships and teen dating violence as well as how to help a friend in an unhealthy/toxic relationship. The importance of educating youth on this is significant. Dating violence happens everywhere and negatively impacts students' physical, sexual, and mental health as well as students' performance in school. My personal goal during this specific presentation was to try and use my age as an advantage to connect with students and allow them to feel comfortable to open up. Esperanza United has always made me feel completely safe and worthy. 
As I am currently in the process of organizing the 2023 Youth Conference and have gained more experience within my role, I aim to confront the skills I lack and improve them. This includes being open to difficult questions and sharing my personal story with assisting a friend through a toxic relationship. Although these are specific aspects I need to improve, I am sure that I left an impact on youth with my ability to be open-minded and have deep conversations.
I have just a few months left on the Youth Committee, and I hope to encounter final leadership opportunities like the one I have been recently offered. Alongside a Youth Coordinator at Esperanza United, I will be participating in a podcast to explain my memorable experience with planning the Youth Conference and share my personal connection to this opportunity. Contributing to my personal growth, I am excited to use my conversing skills in something new. 
In support of my peers who will remain on the Youth Committee, I am looking forward to hearing about their ongoing development as Youth Leaders and I will continue to stay closely connected with Esperanza United mentors to discover resources beneficial to me as a future Latina college student. I am passionate about helping the Latinx community and I strongly believe it starts by educating youth. Topics like the ones we discuss during the conference are usually hidden and kept secret due to cultural settings and this needs to change. Change needs to happen not only for our future generations but for our current ones too.
Learn more, and register for Esperanza United's youth conference which takes place today, Saturday February 18, from 10 a.m.-2 p.m. CT.