What is our theory of change?
We have learned that we are not the ones who are going to end domestic violence in the Latin@ community; it is the community who will end domestic violence. All we need to do is put the work back into their hands. In this section, we are sharing our special ingredient, our theory of change. We hope that it will be useful to other similar organizations who share this value and who are looking to conceptualize their special ingredients or provide support for working from this perspective.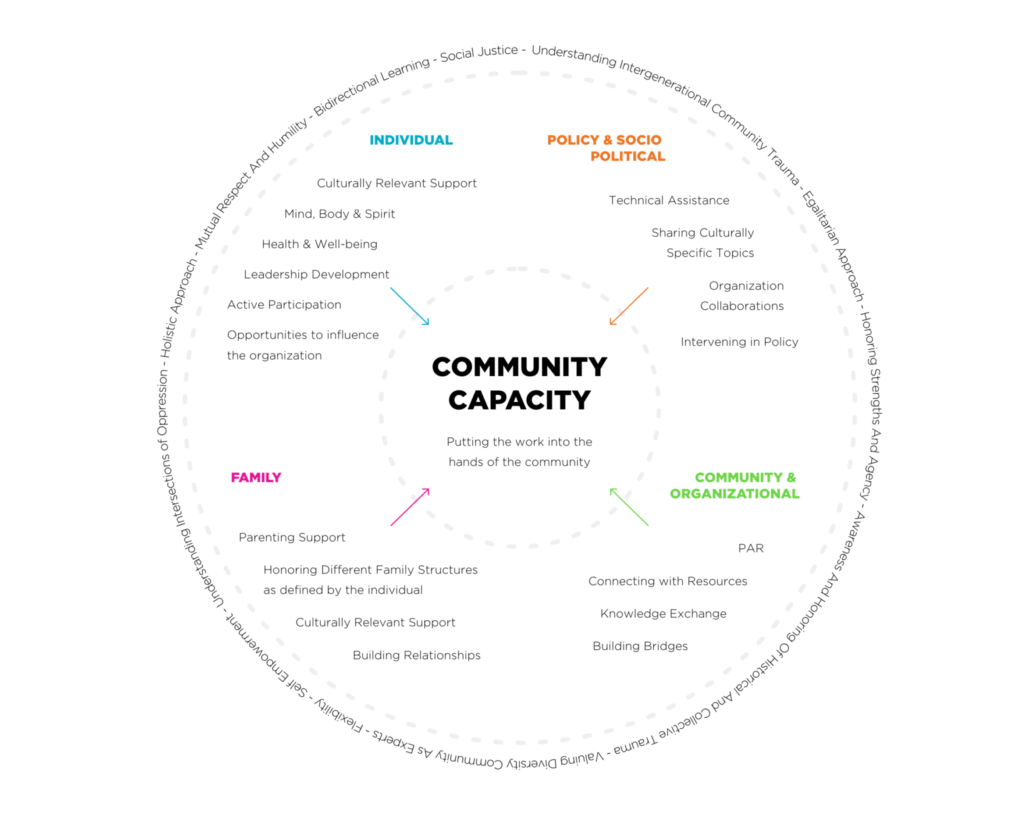 Conceptual framework for cultural specific community based change
This visual is meant to reflect an approach to ending domestic violence (DV) through a cultural specific, community based lens. This approach centers the capacity of communities to create change with the understanding that domestic violence intersects with many other systems of oppression. It reflects various aspects of change at different levels (e.g., individual, family, community, etc.) that we consider critical from this perspective. It is based on multiple types of evidence (community practitioner expertise, community member expertise and documented evidence including academic research) and the community capacity theory of change.
Values/Principles
This approach to ending domestic violence (DV) is grounded in the understanding of DV as a violation of human rights. DV occurs within a larger system of inequality and oppression, thus instances of sexism, racism, classism, and others that are often experienced at the same time. The realities of survivors are central; therefore, the expertise of survivors and their families must guide the work we do and how we do it. Other values that are necessary when working from this perspective include mutual respect and humility, examining and understanding privileged identities, valuing diversity, and honoring strengths.
These values and principles are foundational for change to occur in the four areas listed below (community, family, individual, organizational, policy, and socio-political).  To end domestic DV in our community change must happen at all of these levels.
Community & organizational
Social change occurs through strengthening the capacity of communities to end DV. Ending DV will occur by putting the work back into the hands of community, by for example, having community members engage in both knowledge building and exchange. This approach seeks to redistribute power from the organization to the community in order to avoid recreating or perpetuating oppressive systems. Organizations that work from this approach provide opportunities to share power with community members who can influence the organization at every level. Some examples include:
Listening sessions with community members


Community led planning and advisory boards


Ensuring that Latin@s are in positions of leadership within organizations


Undergoing routine assessments of the organization for culturally affirming practices


Including the collective in the process of healing (building and strengthening social networks)


Peer to peer education programs like the Lideres and promotoras/promotores model



Participatory Action Research (PAR), through which community members develop and execute research projects on topics important to them
Family
This approach builds on Latin@ cultural values of familism (centrality of family) and respect (including respect for elders) by encouraging all family members (as defined by the participant, e.g. LGBTQIA, extended family, etc.) to participate in prevention and intervention strategies to end DV. A variety of services tailored to women, men, and youth should be offered.  How this might look on the ground:
DV interventions incorporating the entire family;


Parenting support for mothers, fathers, and other primary caregivers;


Engaging men in ending violence against women including and beyond batterer interventions;


Advocating for Latin@s and their families in various contexts, such as in the school system and in medical care;


Working directly with children to reduce the continuation of violence across generations.



Youth involvement in preventive efforts and community initiatives
Individual
When working one-on-one, it is important to meet the whole person's needs, to go beyond that person's experiences with violence, promote capacity building and highlight strengths across contexts. Some examples include:
Exploring Latin@ collective histories;


Including holistic healing (physical, social, emotional and spiritual well-being);


Supporting Latin@s in learning to navigate unfamiliar institutions;


Providing opportunities for survivors to strengthen their natural leadership abilities;



Providing support in the intersections of issues (e.g., HIV prevention with Latin@s).
Policy and social political
Multiple social and political forces (e.g., immigration policies) impact survivors' lives in various ways.  An important aspect of the work that is done from this perspective considers these issues and promotes change across systems. Examples include:
Advocating the cultural, social and economic needs of survivors and their families into social policies.


Promoting change within other systems (e.g., partnering with an immigration rights organization to raise knowledge about the impact of immigration enforcement policies on immigrant survivors).


Providing training to DV and non-DV organizations on topics related to DV and systems change.


Identifying and building allies within various organizations working on issues that impact Latin@s, (e.g.  Immigrant Rights, Women's Rights, Disability Rights, LGBTQ, Anti-Racism, etc.).



Building alliances and partnerships as well as coalitions with other communities of color and allies.
It is our hope that this conceptual framework provides a starting point for language to discuss cultural, community based ways of ending DV. It is meant to be a "living" document that can be adapted to reflect the experience of culturally based communities making cultural specific change.